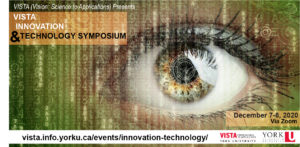 VISTA Innovation and Technology Symposium 2020
About this Event
VISTA Innovation and Technology Symposium is a two-day virtual event (2 hours/day) that brings industry professionals and university researchers in the area of vision sciences together. The event comprises of keynote lecture, a panel discussion, an industry showcase and research showcase. The panelists will discuss the challenges and opportunities translating vision research into the market.
Agenda
Monday, December 7th, 2020 @2pm
14:00 - 14:10: Welcoming
14:10 - 14:40: Keynote lecture: Dr. Allison Sekuler, VP Research at Baycrest
14:40 - 15:30: Panel discussion: "Translating vision research into the market: Challenges & Opportunities"
Dr. Shayna Rosenbaum, Professor, Department of Psychology, York University
Rob Bull, VP Finance, Technology & Innovation, Southlake Regional Health Centre
Dr. Roland Memisevic, Founder and CEO, TwentyBN
Sarah Howe, AVP Innovation and Research Partnerships, York University
Tuesday, December 8th, 2020 @2pm
14:00 - 16:00
Research Showcase: Twelve 2-mins presentations by 12 researchers
Industry Showcase: Twelve 2-mins presentations by 12 industry professionals
Speed Networking and Virtual Exhibition
Prize announcement
Registration details
Date and time: December 7-8, 2020 at 2 p.m.
Please let us know you are attending by completing a RSVP form here
If you have already registered, please click on the link: https://whova.com/portal/webapp/vits_202011/ to create an account with Whova using your email to access the event and edit your personal profile. If you are required a code, please enter "vitrt" to join.